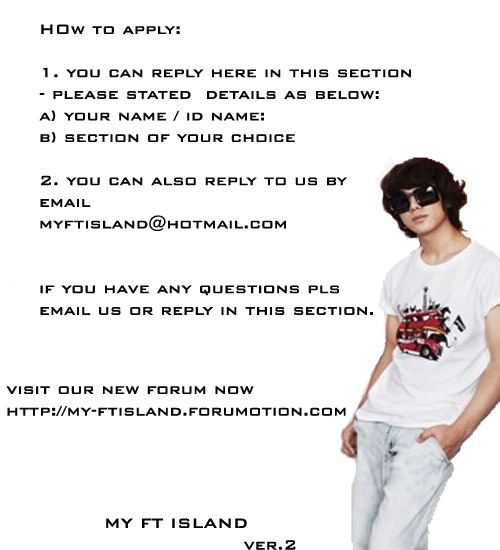 The empty double-dots are still available for members to apply!ADMIN
:Admin (Narina)
- manage the forum
- oversee everything happening in this forum
- manage staff
- FIRE inactive staff
- HIRE new staff
CO-ADMINS
:Cillyaoxora
:Kaori-chan
:babymichiie
-help Admins while they are not around.
-have the same job & credibility as Admin
-Admins are also Moderators.
(i'd really love to have more dedicated admins!)
MODERATORS
FT Adventure Land
:mrs.hongki
:Kaori-chan
:
:
:
:
- tag "[CLOSED]" on finished projects
- update on current events & projects
- update FTi's schedule
MY-FTI.com
:hanyuki
:nuhaaizanni
:dinastik
:ha-mi
:Kaori-chan
:Jessicalee
:KissmELFillaDonna
:
:
:
- update news, lyrics on FT Island
- update their blogs, oricon, cyworld, twitter, me2day
- manage pics & scans
- ensure all content in media are legal and appropriate
MY-FTI Cafe
:ha-mi
:Tessa
:
:
:
:
- update and moderate their members' news
- moderate other artist's forum
- check for title tag
eg: [intro]
Primadonna Avenue
:Cillyaoxora
:yilheh
:KissmELFillaDonna
:
:
:
- moderate games, fanfiction etc.
- follow closely on rules (eg. games)
- Make sure the fanfics, games & content are appropriate to be read
- check for title tag
- make sure post is in the right place
Pri's Candy Shop
:
:
- if you have your own shop, where you are selling things,
- moderate your own topic.
- (i'll elaborate more a bit later)
TECH ADMIN
:Admin (Narina)
:sammiball
:sheri
:
:
:
- handling the forum layout
- have a good understanding in using codes
- must be good in handling CSS & HTML
GRAPHIC DESIGNER
:Red_Dragon
:sheri
:sammibball
:stephy_lhk
:
:
- design icons, logos, headers, markers, emoticons, affiliates buttons, etc.
(my-fti needs jjang! material homies! XD)
EVENT CREW
:Admin (narina)
:tina
:
:
:
:
- handle projects, contests, gatherings, fanmeets, etc.
- able to organize events/available during events
- have ideas & connections to carry out events
- able to supply items needed
- understand how to handle funds
IMPORTANT REMINDER:
1) STAFF
- bear in mind that those who who did not do their workare inactive for more than
2 MONTHS
will be FIRED.
- those who violate their power will be BLOCKED.
- if you have a reason for missing in action, please pm the ADMINS.
- READ the rules before moderating, some moderators make wrong adjustments.
2) MEMBERS
- please read the rules before posting especially general rules.
- keep our forum alive!
- be active all the time, if you can
- update posts if moderators haven't updated
- members who are inactive for more than 2 months will receive an email.
(this post will be edited from time to time)
cr:yuuna@mykpop for inventing the list!


Last edited by babymichiie on Mon Feb 07, 2011 2:48 am; edited 1 time in total (Reason for editing : add a name)